2020 HSC High Achievers
10 Feb 2021
Congratulations to all of our 2020 HSC Graduates.
The Sydney Morning Herald recognised 49 students from Gilroy Catholic College as Distinguished Achievers in 2020 achieving a mark of 90 or above in at least one of their subjects. Gilroy was only one of two Diocesan schools to be recognised by the SMH in the Top 150 schools. Gilroy was placed 144th in the NSW HSC Rankings for 2020.
We congratulate the efforts and achievements of two Year 12 students who were recognised on the Top Achievers list in 2020 for gaining a place in the State within a course, these included:
Aden Challita for 3rd in the state in Retail Services
Courtney Thompson for 5th in the state in Drama with a mark of 100%
Additionally, we acknowledge the outstanding achievements of our students who gained an ATAR above 90.
Our 2020 HSC All Rounder was Ashleigh Howlett, NESA recognises an "All Rounder" as a student that achieves Band 6 results in all of their courses. Congratulations Ashleigh.
Finally, recognise the outstanding achievements of our 2020 ATAR Dux - Amelia Sing and thank Amelia for the inspiring speech that she delivered to the whole school (see below).
We thank all of our 2020 High Achievers who took their time to return to the College to share their insights and tips with our 2021 HSC cohort.
---
Amelia's Speech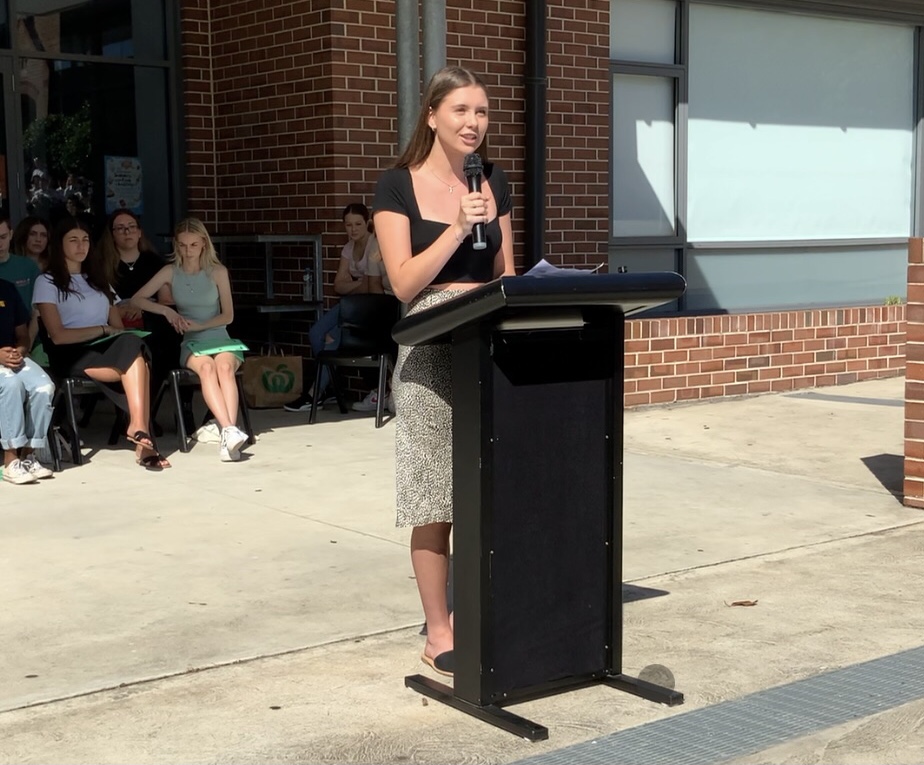 Good morning staff and students, I feel very honoured to be here today representing the cohort of Gilroy 2020. I have heard this speech be delivered six times over my years here at Gilroy and whilst listening to those speeches the thought never even crossed my mind that it would be me who delivered the speech for our year. I always found it overwhelming listening to their immense dedication and studying routines but I promise this journey isn't as extreme as it may seem if you have the desire to achieve.
I think it would be extremely unfair of me to stand up here today, sharing how I achieved my results and to expect anyone to take the same or even similar path that I did. It is important to understand how personal the HSC journey is and that ultimately there isn't a specific method that one can follow to ensure success. Some people study best individually whilst others thrive in groups, some people listen to house music whilst others listen to classical music to focus. There are so many different options which is why it's important to explore different studying techniques, especially in your junior years, that way you can develop the study habits that work for you as soon as possible.
Personally, I found studying to be the most effective when simply doing practise questions. During the past year I completed multiple choices, short answers and created essay plans for every HSC paper that was relevant to each subject's respective syllabus. Although this tremendous effort filled my teachers inboxes with a lot of marking, it provided me with great exposure to the types of questions that I could be presented with and ultimately reduced the likelihood of any unwanted surprises during my exams.
I can't stress enough how important it is to find like-minded individuals, who have similar academic goals and levels of work ethic in your subjects. Through developing such relationships, I found this to be an incredible source of not only motivation and a shared sense of support in a very stressful year, but it also created a forum to gain greater perspectives from my peers. Within my business studies class, I was fortunate enough to be surrounded by an amazing group of friends with common goals. This allowed us to have in depth discussions, both in class and during our study sessions, about theory and real life applications of ideas. We also used group chats to share ideas, questions and solutions, we created mind maps of syllabus dot points and their content on whiteboards and even FaceTimed leading up to exams to quiz each other.
I found a crucial aspect to success whilst studying was consistency. This included being consistent with my notes, which I updated after each syllabus dot point was completed in class, and also with practice questions. This consistency avoided tasks building up, particularly around the time of assessments, which helped to reduce stress during these periods. I think a consistent work ethic is critical especially during the HSC year. As the final HSC mark you receive is half your assessment mark and half your examination mark, ultimately it is just as important to apply yourself throughout the year as it is to the final exam. The day of my business studies exam I remember talking to my friends afterwards and quickly realising the many silly mistakes I had made. However, my continuous effort throughout the year assured me a good rank and provided me with a safety net for the actual exam. I was so incredibly grateful for this as it enabled me to still get a band six despite me feeling I didn't perform as I wanted to on the day of the exam.
It sounds silly but honestly just ensuring that I was very prepared before exams helped me to relieve any stresses. During my two weeks of HSC exams, I found this period was when I actually studied the least throughout the year. I ensured I was prepared enough to never have to study the night before an exam, which assured a relaxed mindset and a good night's sleep. Whilst I promote the importance of consistent effort, it is still vital to place great emphasis on your health during this period. I made sure to eat well, drink water, get essential sleep and play basketball twice a week. More often than not, when I had studies in the morning I would choose to sleep in or go out for breakfast with friends. This ensured I maintained balance, didn't become too overwhelmed by my studies and had little things to look forward to.
I genuinely believe that the HSC isn't just a test of intelligence but much rather a challenge of work ethic. I think it's important, of course, to acknowledge that studying isn't necessarily for everyone and that there are a range of pathways after school that do not involve your ATAR. However, I can tell you it's truly satisfying when your results reflect your personal best and so I encourage you all to carry out your studies to the best of your personal abilities regardless of what level that is.
Thank you and God bless.