Bring Your Own Learning Technology
Device requirements and purchasing tips.
Gilroy is a BYOLT (Bring Your Own Learning Technology) school.
A wealth of studies identify the positive benefits of infusing technology into the classroom and this has motivated Gilroy to pursue a 1:1 technology program in the College.
Technology is creating and shaping our present and our future. For students to become independent, collaborative and self-motivated learners, they need to be skilled in its use and applications in their daily social and working lives.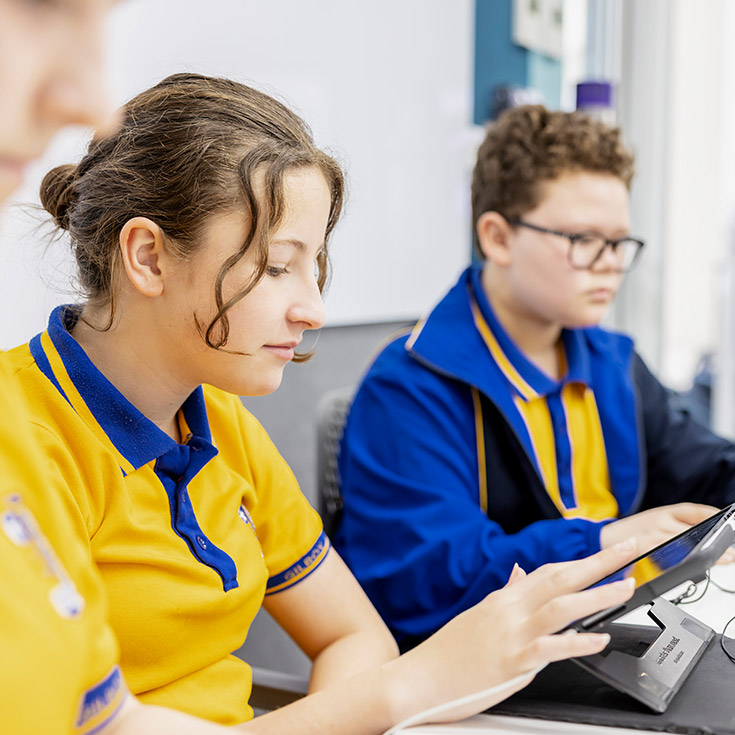 Device Requirements
Students are required to bring their own device as part of their Gilroy education. Please refer to the specifications below when purchasing devices.
Years 7 to 12 (MacBooks only) - models below are acceptable, higher spec models may be purchased at your discretion
| | | |
| --- | --- | --- |
| Product | Screen | Storage (Min) |
| MacBook Pro | 13" | 256GB |
| MacBook Air - M1 | 13" | 256GB |
Purchasing a Device
To assist in minimising the cost of purchasing these devices, Catholic Schools Parramatta Diocese has worked with one of their preferred suppliers of Apple products, Compnow, to set up a Parent Portal. This is a secure portal that enables parents to purchase devices, bags and accessories at discount educational pricing.
Parents can also purchase from Apple stores in person, online, and any other retailer, such as Harvey Norman or JB Hi-Fi.
Visit the Compnow Parent Portal
Visit JB Hi-Fi Education Online
Frequently Asked Questions (FAQs):
Can I buy a model that is better than the ones listed above?
Yes! The listed models are minimum specifications. Parents are welcome to buy a device with a larger screen or which exceeds the recommended specifications at your own discretion.
Why can't students use a Chromebook/Android/Windows device?
Consistency is important to maximise the learning in the classroom. Specifying the platform equality and consistency for teaching, learning, network performance, device deployment and management.
Where can I get the school code for the JB HI-FI portal?
Please email gilroyict@parra.catholic.edu.au with your child's name and year and it will be provided as soon as possible.
Want to find out more about student learning devices?
For any enquiries or further information please contact Gilroy ICT via the link below. This inbox is monitored Monday to Friday during school hours. If you require immediate assistance please contact the College directly.
Send us a message